Media
Apartment Therapy
February 27, 2014, Store Profile: Ronda Ruby Ceramics
In 2010, Ronda Ruby Dibbern turned her love of ceramics into a lighting business, creating original handcrafted lamps through Ronda Ruby Ceramics. As a lifelong potter, Ronda acknowledges that there are times when a piece begins with a specific idea, but most of the time, her lamps slowly evolve through the creative process. The end result is truly one-of-a-kind — a lamp like none before or after it, complete with a customized shade. Here are some of Ronda's recent favorites:
Ronda accepts custom orders if your home is screaming for a specific shape, size, and color (or a matching pair). She describes her handmade lamps and shades as "defined by bold color and dramatic shapes," elevating them to functional art objects, not inconspicuous lighting.
You can find her completed lamps for sale through her shop here.
Chicago Home and Garden Magazine
July 26, 2012 "Shady Business"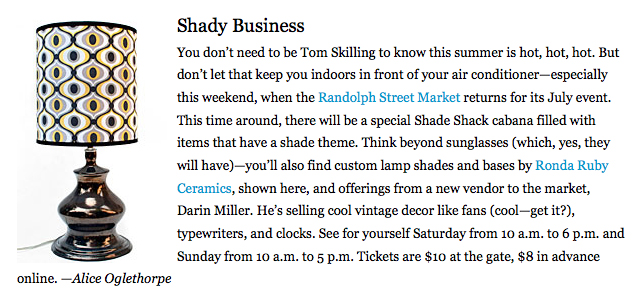 2011 DIY Trunk Show – Meet the Artists
Video from Randolph Street Market, August 2011
Interview with Shane D. Inman of The Inman Company